<![if !supportEmptyParas]> <![endif]>
Amnesty International Toronto Organization
Regional Meeting, October 16, 2004
<![if !supportEmptyParas]> <![endif]>
Report
<![if !supportEmptyParas]> <![endif]>
In June of 2003, the Amnesty International Toronto Organization decided to sponsor and host a Regional Meeting in the fall of 2004.  The meeting was to be one full day of speakers, workshops, and actions. 
We understood that this would be a major project, and would require an extensive team of volunteers, including a large leadership team, and a long planning timeline.  Calls for volunteers and for workshop proposals were sent out in the fall of 2003, and again in January 2004.  The first planning meeting was held in May 2004.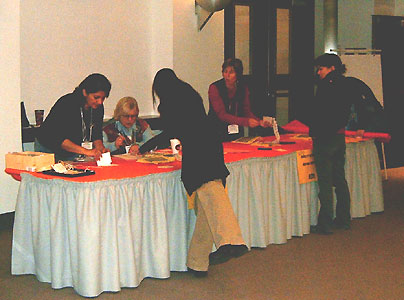 Registration
8:30 a.m. - 9:00 a.m
The Regional Meeting was sold out, with 150 participants!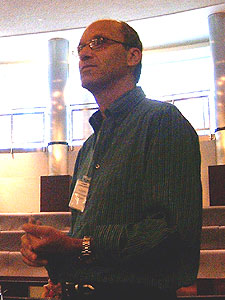 Opening Plenary
9:00 a.m. - 9:30 a.m.
The day kicked off with an introduction from former President of Amnesty International Canadian Section (English Speaking) Paul Bentley, who also briefed us on his current role as Ombudsperson for the Branch.
Origami Doves Action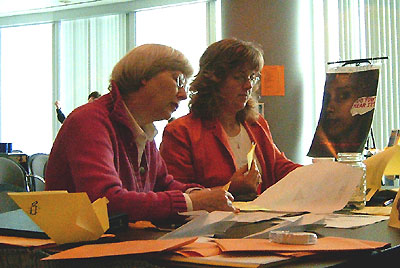 Throughout the day, participants at the regional meeting wrote letters and folded them into origami doves on behalf of Malaysian human rights defender Irene Fernandez. Irene's case is a current Stop Violence Against Women action at the AI web site.
These doves were taped to a large board surrounding the AI candle, to frame our desire to light a candle of hope for and ensure the freedom of Irene Fernandez.
Workshop session one - 9:30 a.m. - 10:45 a.m.
The WHATs, WHYs, and HOWs of Amnesty International's work on Economic, Social and Cultural Rights
Marilyn McKim and Wayne Smith
Addressing violations of civil and political rights keeps us plenty busy.  Now we're taking on the protection of economic, social and cultural rights!  Can we do it?  This workshop explored why Amnesty made the decision, what we have done to the present and how our work is changing.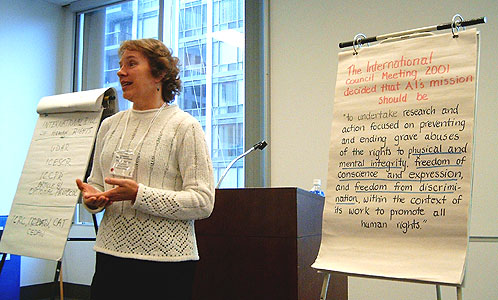 The 2001 International Council Meeting decided that AI's mission should be "to undertake research and action focused on preventing and ending grave abuses of the rights to physical and mental integrity, freedom of conscience and expression, and freedom from discrimination, within the context of its work to promote all human rights."
The workshop began with a brief précis of the history and content of the International Covenant on Economic, Social and Cultural Rights, which is the prime source document on ESC Rights.
We examined the differences between ESC Rights and Civil and Political Rights, and the differences in approach required in working for these two different kinds of human rights.
We outlined the criteria by which Amnesty International will decide what we can respond to, with some examples of types of cases that might be suitable for AI work.
We discussed the work that Amnesty has already done on ESC Rights, and how that work is likely to evolve in the future.
We concluded the workshop with a brief presentation on the theory, history, and technique of 'brainstorming', and held a mini brainstorming session on a sample ESC case.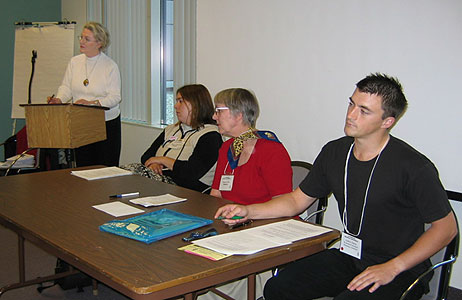 Death Penalty Issues and Information
Moderator -- Iris Nowell
Participants:
Tracy Lamourie, Canadian Coalition Against the Death Penalty
Margaret John, AI Coordinator, Singapore
Aubrey Harris, AI member
This workshop featured:
A report from the 2nd World Congress Against the Death Penalty, held in Montréal on October 6-9, 2004.
An update on changes in the death penalty in the United States, changes in public opinion, and the effect of terrorism on the death penalty.
A report on wrongfully convicted persons, and on heightened awareness of innocent people on death row.
An audience participation session on: How to answer tough questions about the death penalty.
Security Certificates: Protecting Canada's Security by Jeopardizing Basic Rights?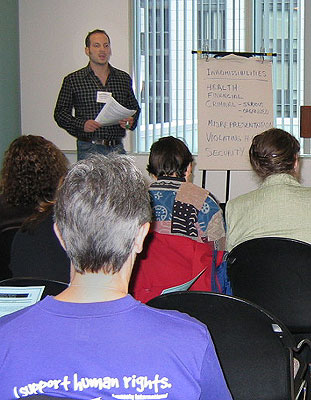 Guest speaker: Michael Battista
Facilitator: Sasha Baglay.
Gloria Nafziger was present to respond to questions about AI's refugee campaigns.

According to current legislation, terrorist suspects can be detained on 'security certificates' for prolonged periods of time, and can be deported to their countries of origin notwithstanding the risk of torture or persecution that they might face there.  Are such actions acceptable to protect Canada against terrorism?  This workshop explored problems with the security certificate process in Canada, Amnesty's position on the issue, and the safeguards that need to be established for the future.
Panel Discussion - 11:00 a.m.-12:15 p.m.
Stop Violence Against Women
Campaign Coordinator Cheryl Hotchkiss,
Refugee Miriam Kutesa, and
Farrah Byckalo-Khan of the Metropolitan Action Committee on Violence Against Women and Children (METRAC).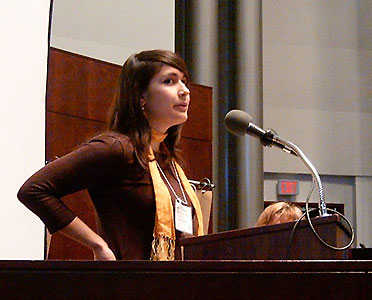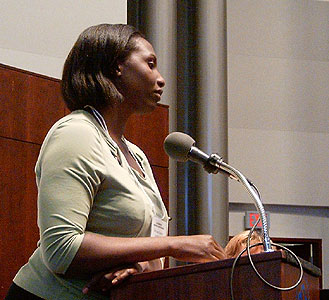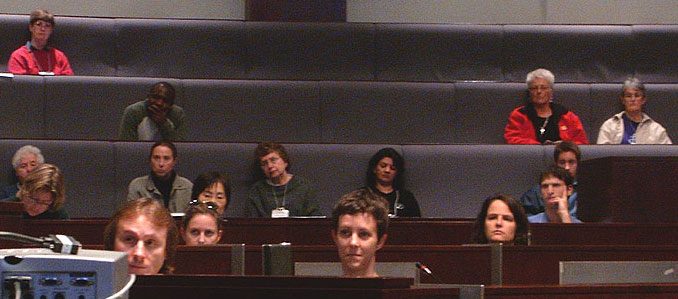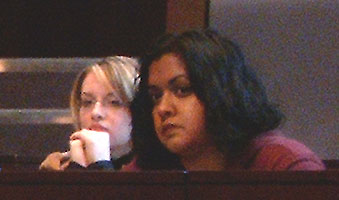 The subject of violence against women connects to an intricate web of issues related to equality, justice and power. We all have so much to learn. It's the world's most pervasive human rights violation. It's the violation most often ignored. Every minute of every day, women and girls around the world are assaulted, threatened, raped, mutilated and killed. Women are routinely denied the protection that is their right. And those who carry out acts of violence are rarely brought to justice.

Lunch -12:15 p.m. - 1:00 p.m.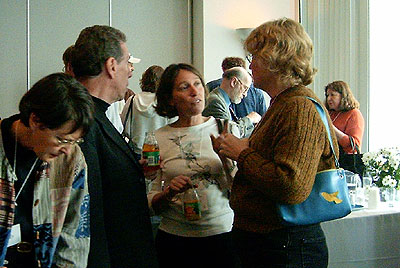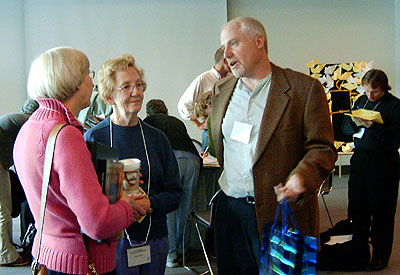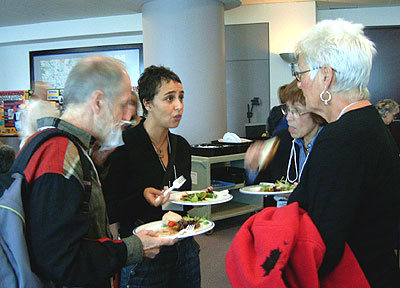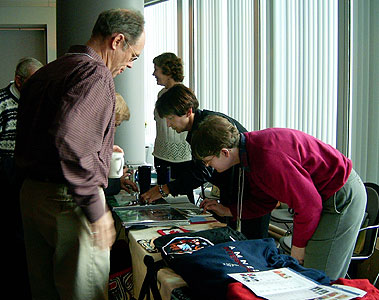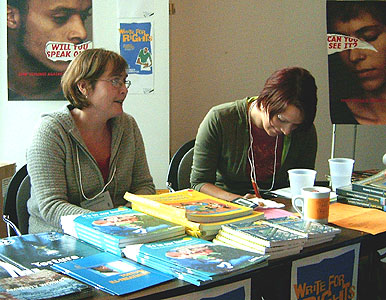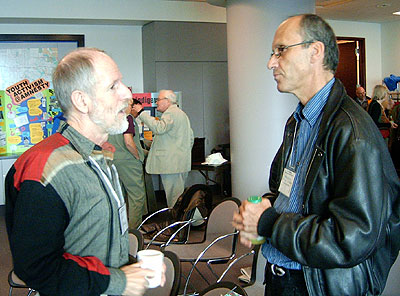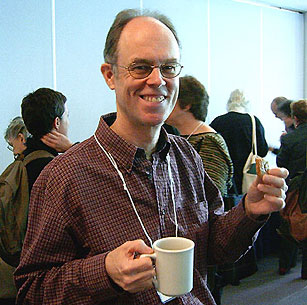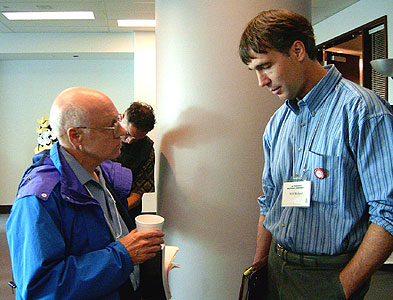 Keynote Address - 1:00 p.m. - 1:30 p.m.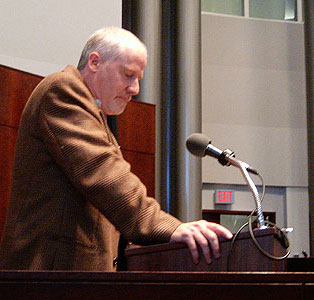 Alex Neve, Secretary-General, AICS(ES)
Alex spoke eloquently and movingly on how Human Rights fit into International Law, and on issues of security.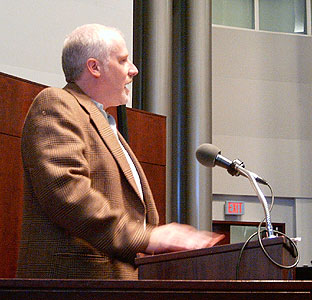 Workshop session two - 1:30 - 2:45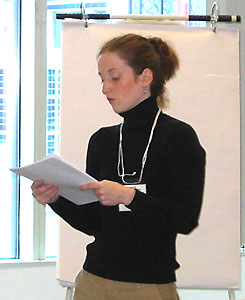 Grassroots Fundraising – Helping Your Group Raise More Money
<![if !supportEmptyParas]> <![endif]>
Erin MacNeil
This session guided participants through the fundamentals of fundraising for a grassroots organization.  The object was to give participants fundraising knowledge, materials and tactics that would help their groups raise more money.
Amnesty in 100 Seconds – Making the Most of Brief Encounters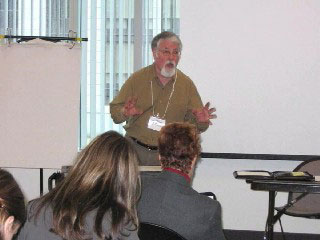 Michael Craig
This workshop was designed to help participants assemble their thoughts and make a good impression when speaking briefly to friends and co-workers.
Participants learned and practiced how to define Amnesty briefly, motivate people to take action, and disarm the cynics.
Creative Exposure
<![if !vml]>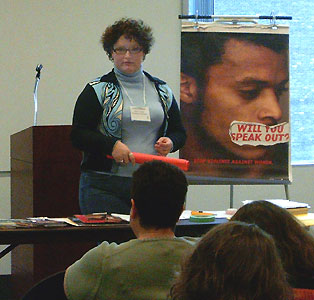 <![endif]>
April Anne Viczko and Susanne Brunetzky
How to get the biggest bang for your visual buck!  This workshop gave hot tips and cool info on how to display and present your Amnesty International campaign.  Two designers from the AITO Art in Action Team brought participants the information you need to know to give you the edge in this media-saturated world.  Topics included large-scale events, outdoor activities, using the AI logo, where to buy cheap supplies, and who to ask when you need help cracking the creative nut!
Workshop session three - 3:00 - 4:15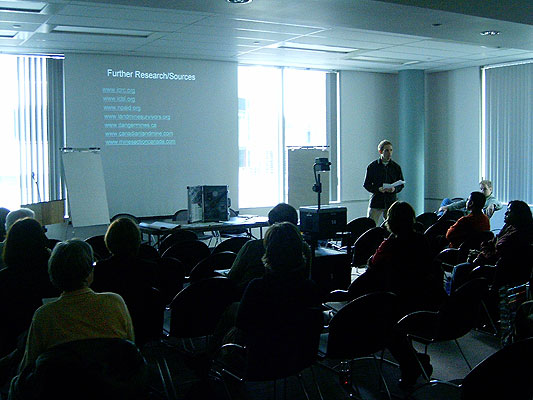 Socio-Economic Effects of Landmines
Presented by the Canadian Landmines Foundation
This workshop spoke about why and where landmines are used, and what they are.  There was also an interactive session on how landmines affect people physically, socially, and economically.  The workshop also looked at the international community's response on the use of landmines, and the challenges that lie ahead.
The landmines workshop was conducted by Kevin Keane and Paul Faucette.  Through a PowerPoint presentation, the workshop engaged participants in a discussion about the impact of landmines on the civilian population, the impact of landmines on community and state development, the impact of the Ottawa Treaty, and the ongoing campaign to eradicate landmines.  The workshop implored the participants to take action to ensure that this generation is the last to live in a world with landmines.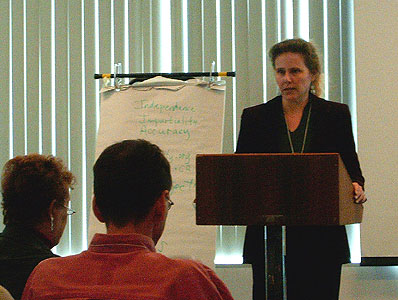 Canada's Resource Sector Abroad
A panel discussion with:
Barry Simmons of the
Prospectors and Developers Association of Canada
and Leslie Jermyn, President of GlobalAware.
Facilitators: Maria Amuchastegui and Tanya Thompson, AI Business & Human Rights Group
Canadian resource extraction companies are often involved in countries where human rights violations are rampant.  To what extent are they responsible? 
| | |
| --- | --- |
| | Leslie Jermyn spoke of the environmental and human consequences of oil exploration and extraction, while Barry Simmons spoke of the Best Practice and Reporting Guidelines for Exploration and Mining Companies, draft guidelines providing best practice guidelines for mineral exploration activities. |
The opening talks were followed by a lively discussion with the audience.
Investor Rights or Human Rights: What's the Connection between Free Trade Policies and Violence against Women?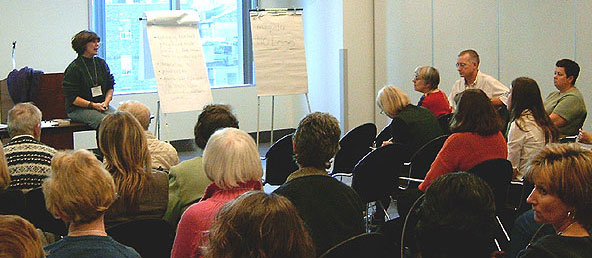 Kathy Price, AI Urgent Action Coordinator
As part of the Stop Violence Against Women campaign, AI Canada has begun a research-to-action project called Women At Risk in the Americas: The hidden face of the new economy.  This workshop explored some of the findings with the help of video footage and the testimony of women from Latin America.
The workshop included lots of chances for input by participants, and there was much discussion and engagement around the issues. Participants watched several pieces of video Kathy had filmed that shared the testimony of women maquila workers in Central America and Indigenous women from areas affected by resource extraction in South America.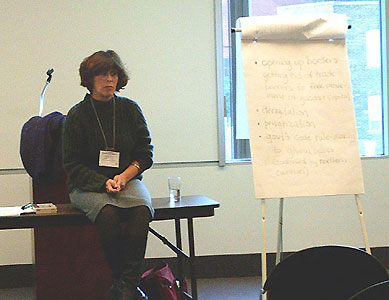 At the end of the workshop, participants added comments and signatures to two letters—one to the government of Ecuador regarding the defence of Sarayaku women, and the other to the governor of Chihuahua regarding the murdered women in that state (including Ciudad Juarez).
Closing Plenary - 4:15 p.m. - 5:15 p.m.
Armed Conflict: AI's concerns on the use of force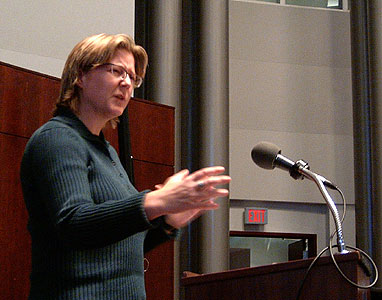 Dialogue with Hilary Homes and Alex Neve
When does a government become a rogue state? When is it appropriate for outside troops to intervene? Who gets to decide?
The 2005 ICM will consider resolutions which may profoundly change Amnesty's position on the use of armed force. 
This participatory session examined the implications of different policy directions.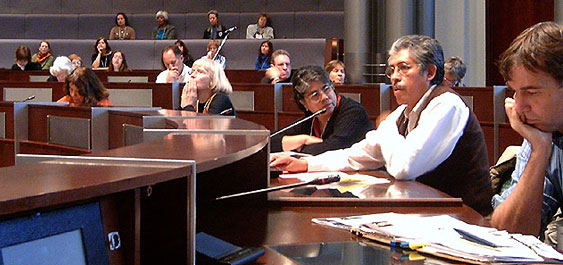 Evaluation