Amnesty International Toronto Organization
Regional Meeting, October 16, 2004
<![if !supportEmptyParas]> <![endif]>
<![if !supportEmptyParas]> <![endif]>
Planning
In June of 2003, the Amnesty International Toronto Organization decided to sponsor and host a Regional Meeting in the fall of 2004.  The meeting was to be one full day of speakers, workshops, and actions. 
It was understood that this was to be a major project, and would require an extensive team of volunteers, including a large leadership team, and a long planning timeline.  Calls for volunteers and for workshop proposals were sent out in the fall of 2003, and again in January 2004.  The first planning meeting was held in May 2004. 
By June, the meeting was a go for October 16.  Alex Neve had been confirmed as the keynote speaker, and rooms had been booked at Metro Hall, with the sponsorship of Councillor Olivia Chow.  There is no charge for using these rooms.
The planning committee met again in June, July, September, and October. 
The event was planned to break even financially.  We set the registration fee as low as possible, $25.00, which we hoped would cover the cost of the catering.  This was the major expense, since the rooms were free.  We agreed that there would be no 'comps' except for invited guests, and that all volunteers would pay for their own registration. We also agreed to offer subsidized spaces for students and others who might find even $25 too expensive.  We also encouraged our groups to sponsor subsidized spaces, and two groups and one individual offered to do so.  We applied for, and received, additional financing from AICS(ES).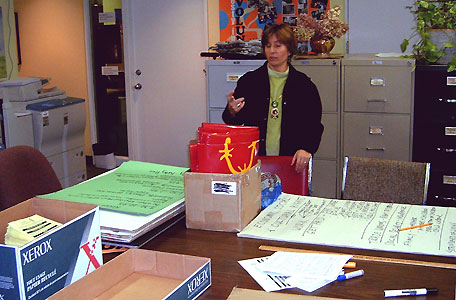 We wanted the meeting to be an opportunity for AI members to learn more about the issues and themes in our work, to develop skills and techniques for their activism, and to have a chance to meet each other and network. We especially wanted to attract people who, for one reason or another, did not usually attend the AI Canada AGM.  We wanted to bring in some outside speakers for new points of view.  We decided to key the workshops to the new Branch Plan.  We decided to have strong tie-ins with the current campaign to Stop Violence Against Women.
One of the first things we did was establish a Workshops Committee, who coordinated the workshops, letting the presenters know what we expected of them, and finding out what they were up to.  We asked all the presenters to try and have 'learning, skill-building, and action' components in their workshop.  We asked all the workshop presenters to give us an outline in advance, which no doubt was good discipline for them.  Many of the workshops evolved considerably over the planning period, right up until the day of the regional meeting.
We planned to have three sessions of three workshops each.  Originally, we planned for each session to have an issues-based workshop, a skill-building workshop, and an action workshop, but eventually we regrouped the workshops into an issues session, a skills session, and an action session.
We would also have four plenary sessions, including an opening plenary, a panel discussion on violence against women, a keynote address, and a closing plenary on Amnesty's policy on the use of armed force.
We made sure we had an evaluation form, and encouraged people to use it.  Producing the agenda and maps for the registration mail-out proved to be unexpectedly time-consuming, due to computer problems, but the Toronto staff rallied  'round and did a last-minute fix.
Our publicity launch was ready by July 31.  We publicized the meeting through an announcement in the July/August issue of The Activist, and an article in the September/October Activist, both of which also ran on our GTA email Calendar of Events and were posted on the AITO website at www.aito.ca.  The Regional Development Coordinator sent our message to groups and fieldworkers outside the GTA, and to the calendar page of the national website, www.amnesty.ca.
We insisted on pre-registration, and set October 6 as the deadline.
At the last minute, we arranged to get into the meeting rooms the day before, for a couple of hours of setup.  This turned out to be essential!