Amnesty International Toronto Organization
Regional Meeting October 16, 2004
<![if !supportEmptyParas]> <![endif]>
Chair's Report

Wayne Smith
<![if !supportEmptyParas]> <![endif]>
<![if !supportEmptyParas]> <![endif]>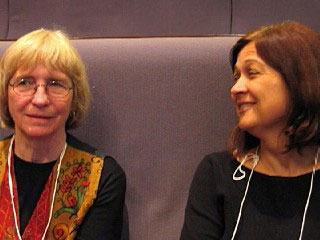 I am pleased to report that the Amnesty International Regional Meeting on October 16, 2004, organized by the Amnesty International Toronto Organization, appears to have been a great success.
Our conference was essentially sold out, with about 150 participants from all over Ontario. We presented nine workshops, a keynote address, and two panel discussions, in a full but fast-paced day.
Our agenda was keyed to the new Branch Plan, with the Stop Violence Against Women campaign being an over-riding theme. We also addressed cultural diversity through our workshop on refugee issues, as well as such emerging areas of Amnesty activity as business and human rights, and economic, social, and cultural rights.
This report has been designed, not just as a record of what happened, but how it happened, so that it can be a resource for those planning future regional meetings. There is a comprehensive section on Planning the Regional Meeting, including all the minutes of our planning meetings. Since we intended to post this report on our website, I decided to write it in web format.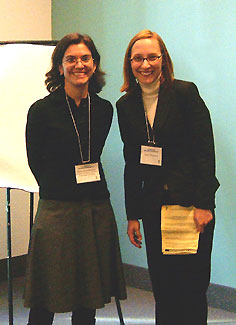 Management, they say, is about making quick decisions and getting someone else to do all the work. It is with great pride, therefore, that I can say that I had almost nothing to do with preparing and planning our Regional Meeting.
It was clear from the beginning that we would require a large team of volunteers with a varied skill set and a high level of competence and commitment. That is what we got. Little is left for me to do except express our profound appreciation to those who did the actual legwork. Some of them are reliable warhorses, and some are new faces.
The other members of the AITO Executive Committee are Patrick Furey, Andy Buxton, and Patricia Grenier. They are all so experienced and so active that it is almost as if we had four co-chairs.
The workshops were the heart of our Regional Meeting, and great credit is due to our Workshop Coordinators, Elena Dumitru, Karen Eaton, and Iris Nowell.
Margaret John, Michael Battista, Sasha Baglay, Michael Craig, Susanne Brunetzky, and Maria Amuchastegui helped make our workshops exciting and informative.
Mary Macrae performs an invaluable service to Amnesty members in the GTA by producing our Calendar of Events email newsletter.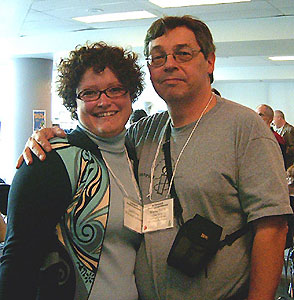 One of the great pleasures in taking part in an event like this is seeing new people step forward to take a leadership role. In this regard, I must mention Bridgette Clark, April Anne Viczko, Tanya Thompson, Rosemary Parker, Renee Lafferty, and Aubrey Harris.
Staff in the Toronto office were, as usual, key participants in what we do as volunteers. Thanks to Marilyn McKim, Nancy Cameron, Bridgid O'Reilly, Erin MacNeil, Genevieve Tran, Gloria Nafziger, and Kathy Price.
I could not fail to mention the hardest working woman in show business, our Regional Development Coordinator Elena Dumitru, who knows everyone and everything, is everywhere all the time, and is a key actor in everything that happens around these parts. She is an unfailing source of energy and inspiration.
We are indebted to AICS(ES), not just for financial support, but also for the participation of Alex Neve, Paul Bentley, Hilary Homes, and Cheryl Hotchkiss, who took part in our panel discussions. Bonnie Laing helped make our conference a success through the publicity in The Activist. Although she was not able to attend the meeting, Deb Smith was very helpful to me in preparing for the panel discussion on the use of armed force. I am sure others made important contributions behind the scenes.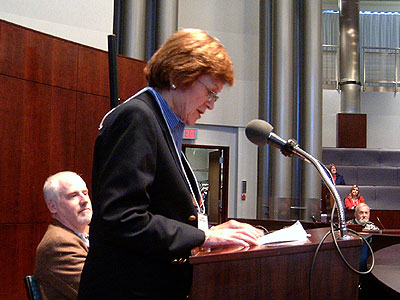 Our outside speakers added new perspectives to our work, and made the event fresh for all of us. Thanks to Tracy Lamourie, Miriam Kutesa, Farrah Byckalo-Khan, Kevin Keane, Paul Faucette, Barry Simmons and Leslie Jermyn.
Florin Zamfirescu videotaped Alex's speech and edited the CD video of the event. The staff of Metro Hall were always helpful and accommodating.
It was a particular personal pleasure for me to work with Marilyn McKim on our workshop on Economic, Social, and Cultural Rights, and with Nerrida Kogitz, who was a wise and patient sounding board.
There were many other volunteers who made important contributions, too many to name them all, but their names and faces are prominent throughout this report.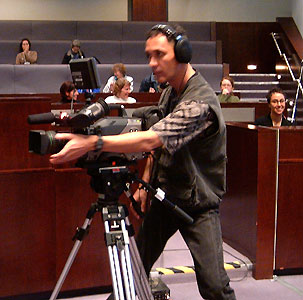 Not least, of course, are all the Amnesty members who came to our regional meeting, listened to the speeches, participated in the workshops, folded the doves, signed the petitions, networked and kibbitzed, and went away reinvigorated for human rights work. Thank you all for attending our conference, and for the work you do every day for human rights around the world!
Wayne Smith, Chair
Amnesty International Toronto Organization
416-407-7009
Chair@aito.ca