The Neon News
November 19, 2005
---
Hey Fanz!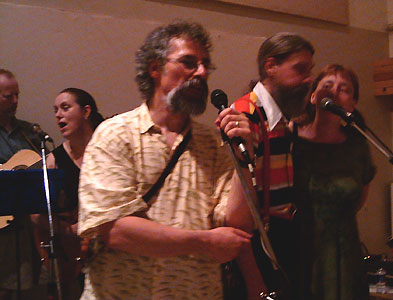 We're still here!
Bagpipes, mandolins, and pedal steel guitar again as usual at the
Free Times Café, 320 College Street West (two blocks west of Spadina)
this Sunday, November 20 with Gordon's Acoustic Living Room!
Eight to eleven o'clock as always and still no cover!
What happened to October?
I was just too busy to do the Neon News, but we had a crowd and a good time anyway!
Voting on voting!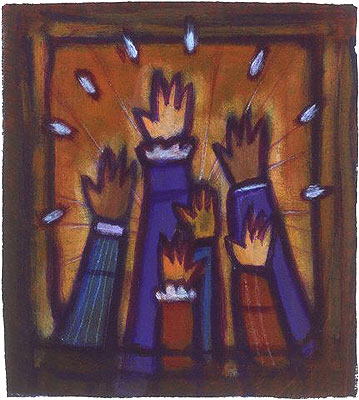 Did you know that Ontario is going to have a Citizens' Assembly on Electoral Reform?
Did you know that they're going to be designing a new voting system for Ontario?
Did you know that we're going to have a referendum on that new voting system in 2007?
Haven't you heard a word I've been telling you?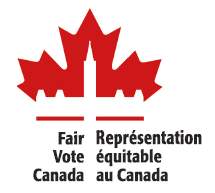 Get your butt down to the

St. Lawrence Centre Forum

27 Front Street East in Toronto
Wednesday, November 23
7:30 - 9:30 p.m.

and find out what you need to know!
Patio Santa & the Turkeys!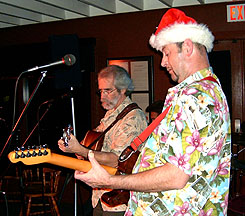 Yes, it's another spectacular seasonal extravaganza at the Lighthouse Festival Theatre in Port Dover on Friday, December 9 with Patio Dave & the Lanterns and lots of very special guests!
Proceeds once again will provide holiday turkeys for a lot of folks who wouldn't otherwise have one.
Get your tickets now from the Lighthouse Festival Theatre box office at 519-583-2221 or 1-888-779-7703, because they're sure to sell out!
Extra! Extra! More bagpipes!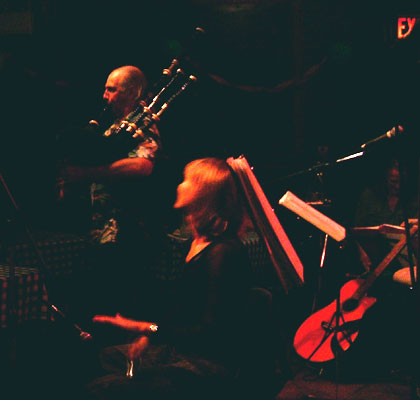 Hard to believe, but some people just can't get enough bagpipes! Gordon's Acoustic Living Room will be giving a special command performance on Sunday, December 18 at the Free Times Café, 320 College Street.
Well, yes, it's our regular monthly night, but we weren't planning to play in December.
But wait! It's not just another Sunday night of eclectic mayhem!
It's a special, All Request Night!
That's right, over the past two years we've played over
150 different tunes,
and we'll play any one you want on December 18!
Send in your requests by email to Gus: rory.sinclair@rogers.com
You gotta be kidding!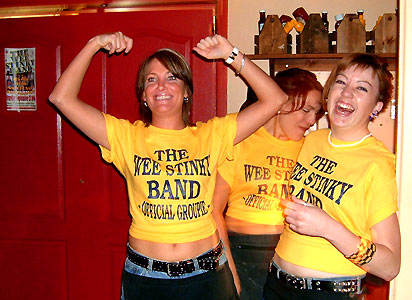 Yep, it's true!
The Wee Stinky Band will actually be making their long-awaited reappearance at a college pub!
The malodorous melodians will be performing at the
Last Class Bar & Grill on the campus of
Georgian College in Barrie
on Saturday, December 17.
And they expect you to pay for it!
$5 Advance, $7 at the Door.
STRICTLY ENFORCED BY BIKER CHICKS!
What's that smell indeed!
Wayne Neon
416-407-7009
Wayne@wayneon.ca
Also worth catching . . .
ABORIGINAL LEGAL SERVICES OF TORONTO
invites you to two fundraising performances of
Native Earth Performing Arts
in association with Factory Theatre
DREARY & IZZY
by 2005 Dora Award - winning playwright, Tara Beagan
"Funny and poignant, Dreary and Izzy is the story of two sisters, after the death of their parents, Deirdre is left as sole caregiver for her adopted sister, Isabelle, who is from the neighbouring Blackfoot community, and severely affected by fetal alcohol syndrome. Deirdre's barely staying afloat until gorgeous vacuum cleaner salesman Freddie Seven Horses arrives and quickly forges bonds with both sisters."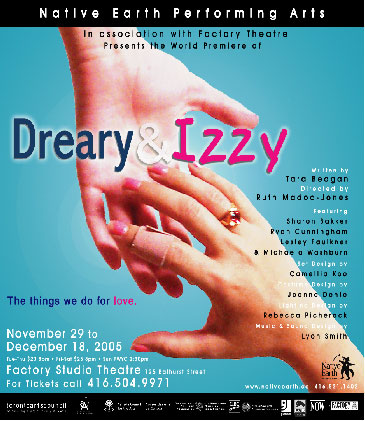 Two performances:
Wednesday, Dec 7, 2005 - 8 p.m.
Thursday, Dec 8, 2005 - 8 p.m.
Factory Studio Theatre
125 Bathurst Street
(corner of Bathurst and Adelaide)
$25
Door Prizes!!
Tickets are limited! Reserve Now!
Call Charlene
416-408-4041, ext 223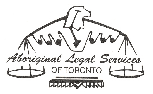 All proceeds from these performances benefit the programs and services of Aboriginal Legal Services of Toronto (ALST). ALST is a non-profit multi-service agency serving Toronto's Aboriginal community. The vision of ALST is to support and advocate for the Aboriginal community and its members in Toronto to gain control over the legal and justice issues that affect them.
Janis Daly & Friends
A musical celebration!
SMILING BUDDHA BAR
961 College Street, (416) 516-2531
South side of College, west of Dovercourt

Saturday, December 10, 2005
TIME: 9 P.M. No Cover
© 2005 Photograph courtesy of Kathleen Sorenson
And in other news . . .
From Mainichi Daily News
November 13, 2005
TOTO makes fine art of toilet humor with senryu-print paper
In commemoration of "Toilet Day," a day established by the Japan Toilet Association, plumbing product manufacturer TOTO has introduced a collection of humorous senryu in the form of toilet paper.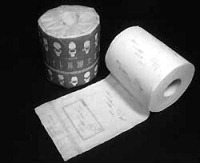 Senryu are humorous 17-syllable poems like haiku.
The collection of "poems to please the posterior" was produced from about 10,000 entries that were sent in. A total of 19 senryu describing toilets and people using them are included in the selection.
Each roll, made from recycled paper, costs 350 yen. The products will be sold at major bookstores and through TOTO's Web site.
Although the toilet paper can actually be used, officials aren't too keen on seeing their efforts going the drain.
"Don't flush your love for the toilet away," an official in charge of the project urged.
We get letters . . .
The passing of an icon
Friends:
Join me in remembering a great Icon of the entertainment community. The Pillsbury Doughboy died yesterday of a yeast infection and trauma from repeated pokes in the tummy. He was 71.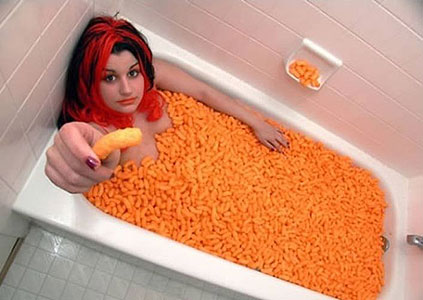 Doughboy was buried in a lightly greased coffin. Dozens of celebrities turned out to pay their respects including Mrs Butterworth, Hungry Jack, The California Raisins, Betty Crocker, the Hostess Twinkies, and Captain Crunch. The grave site was covered with flour. Aunt Jemima delivered the eulogy and lovingly described Doughboy as a man who never knew how much he was kneaded.
Doughboy rose quickly in Show Business, but his later life was filled with turnovers. He was not considered a very smart cookie, wasting much of his dough on half-baked schemes. Despite being a little flaky at times he was still a crusty old man, and considered a roll model for millions.
Doughboy is survived by his wife Play Dough and two children, John Dough and Jane Dough, plus the one in the oven. He is also survived by his dad, Pop Tart. The funeral was held at 350 for 20 minutes.
If this has caused you to smile, for even one brief moment, pass it on to your friends who may not have heard the news. They may knead it.
Thank you Doughboy.
Love
Ken
Media in the media . . .
Weekly Radio Address

Turn your radio on! (and your speakers up)

A rare moment of truth in media!
Gore on media
This is long but gripping and essential reading.
Al Gore on the Threat to American Democracy
Media on Gore
A flash from the past.
Consortium News - Al Gore v. the Media
The Last Word
What more is there to say?
The O'Reilly Factor
The Word After the Last Word
Murdoch outfoxed by Doonesbury.
Doonesbury