The Neon News
January 11, 2006
---
Hey Fanz!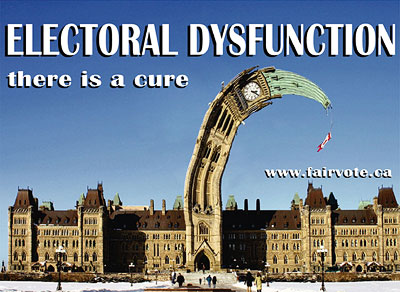 Hey yerself! Where's my Neon News?
Yes, yes, I know, I've left you all wallowing in ignorance since November, but there's an election on, don'cha know?
I've been putting all my spare time and energy into promoting fair voting reform for Fair Vote Canada, and in particular, I've been pouring all my creative juices into
my blog at http://fairvotecanada.blogspot.com/.
Be sure and check out our new video with Don "Air Farce" Ferguson!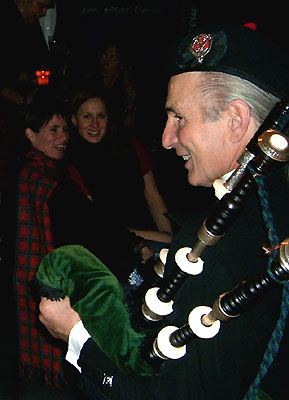 Politicians come and go but haggis is forever
Yes folks, now commencing our Third Year of Regular Monthly Gigs(!) at the Free Times Café, 320 College Street (just west of Spadina), it's the unstoppable Gordon's Acoustic Living Room!
The Schedule for 2006 is now available. Once again, we will be playing on the third Sunday of each month from 8 p.m. to 11 p.m., with a couple of wrinkles. The anomolies this year are March 26 and April 23 which are the 4th Sundays of the month instead of the regular 3rd Sunday.
So, the new season kicks off on Sunday, January 15 with the regular gig at the Free Times.
Return of the haggis
We'll be doing a pre-Burns-Night Burns Night at St. Stephen's House on Saturday, January 21.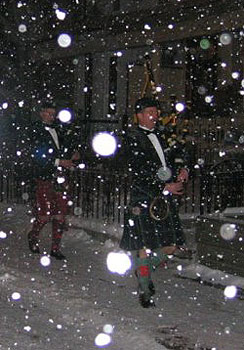 ROBBIE BURNS COMES TO
ST STEPHEN-in-the-FIELDS
on JAN. 21st!

A Scottish evening
with piper Rory Sinclair and
Gordon's Acoustic Living Room

Haggis, tatties and neeps!

From 7 p.m., with address to the haggis at 8 p.m

Cost: $20, includes dinner and a wee dram - plus Celtic song and piping. Cash bar.

Tickets are limited. (and already half sold!)

Reservations by telephone at 416-921-6350
St. Stephen-in-the-Fields, 103 Bellevue Ave. (midway between College and Bathurst Sts.)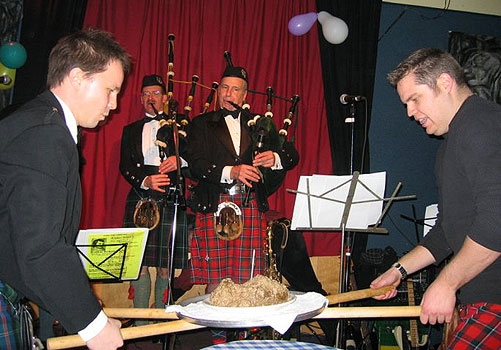 Haggis, haggis, and more haggis
The haggis season comes to a thundering conclusion (and if ye're no thundering, ye've nae been eating the haggis) with
The Gig That Started It All,
the one and only
Robbie Burns Night
Wednesday, January 25
at the Free Times Café
starting at 9:30 p.m. (or thereabouts).
Whew!
Also worth catching . . .
Jeff Mandell was the cookin' swing drummer for the Big Steam Band back when I was in the band.
Here's what he's up to now. You know it's gotta be hot!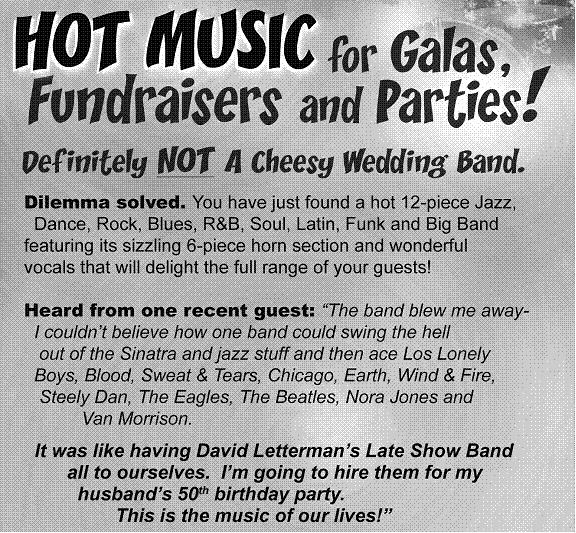 Hello Music Lovers
What do George Olliver (the blue-eyed prince of soul), Adrien Breda (Domenic Troaino's great vocal discovery) and Cal Dodd (king of jingles) all have in common?
In 2005, they all performed as guests with The Bluesual Suspects!
We've been busy on the Corporate Party and Gala scene, so here's an opportunity to come out and hear us at a great club!
THE BLUESUAL SUSPECTS
Hot Music!
http://www.thebluesualsuspects.com
Saturday, January 21, 2006 at 9:00pm
The Rumour Mill
10 Main Street West
Grimsby, Ontario
http://www.rumourmill.ca/contact.html
Everything happens at once! Jedediah plays with Richard Underhill and I'm up to my arse in haggis!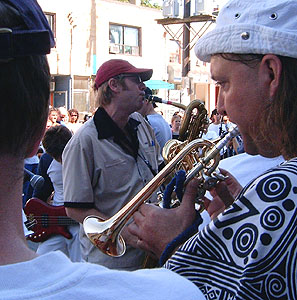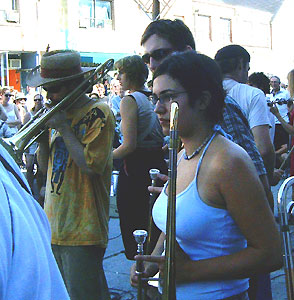 You are invited to
"Rhythm Transmission"
Come out to see Samba Elegua and special guests on Saturday Jan. 21st. We are hoping for a crowd of at least 250 people.

Copies of our cd will be available that night if you are interested.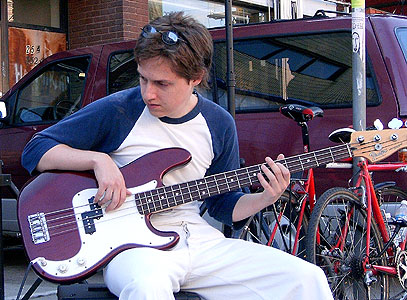 Tentative Lineup:
Samba Elegua www.sambaelegua.com
with special guests:
Maracatu Nunca Antes www.nuncaantes.com
The New Kings
Rich Underhill & the Kensington Horns
MC Esef
DJ King-Stun
Belly Dance by Rosanna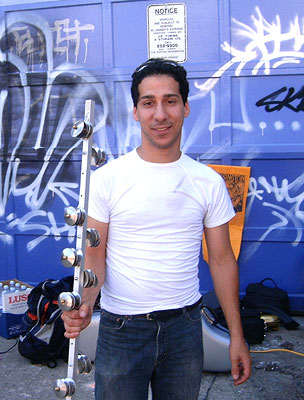 Date: Saturday, January 21st
Venue: The Speakeasy (www.speakeasytoronto.com)
Location: 120 Church Street @ Richmond
(1.5 blocks south of Queen St. East) - Toronto
Cover: $10 at door
Doors Open: 9:00 pm
We get letters . . .
The big bonfire
A letter from Becca Barclay on the ould sod
Dear Wayne,
Happy Burns night!
It's a bit different here, but I'll be playing on Burn's night too. But missing yaz' all.
They lit a big bonfire for Guy Fawkes on Nov 5th, but not to celebrate his attack on parliament. Oh well. A bit of extra heat is a good thing these days.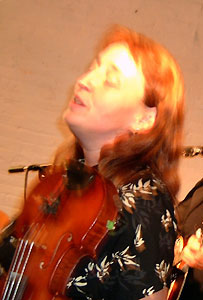 I'm doing too good over here. Been meaning to write for a while...but suddenly a bit swamped with business. This year, well I hate to say I got "stuck" in Scotland. I just like it here. Not just cuz there's haggis in every farmers market! I got some good jobs! I finished my last shift till later today at a lovely silk and cottony Indian clothing store, hanging from 30 foot ladders dangling literally tons of clothes on Christmas eve. Not sure if that's better than construction, but there's a certain element of adrenalin, how to survive each exciting moment. A bit dangerous for someone who likes clothes.
Best is, a contract for an detailed oil painting for the Astronomer Royal, which includes Westminster Abbey, and John Harrison and his invention of the first latitude clock. Yikes - mega details! And last week a commission for 19 fine wildlife watercolours, plus an offer to design packaging labels starting in January. Feels like I can be part of the real me here, the artist.
Played at a Ceilidh on Boxing day with a super Scottish fiddler and a banjo player, and for new years with a France French harpist, so the music continues. Bunch of weddings too. Aha, on Jan 2nd, my regular buddies at "the Ship" session were a bit wild, with some seventy year olds dancing on the tables. One of the finer flute players commented, "even when it's bad here, it's good." They ask me to sing all the time. I might never leave.
Well, there's the update for now. I hope you are having lovely days.
Happy New Year!
love from Rebecca.
And in other news . . .
from The Onion
CIA Chief Admits To Torture After Six-Hour Beating, Electrocution
December 21, 2005 - Issue 41.51
LANGLEY, VA - An internal CIA investigation into the possible use of illegal and inhumane interrogation techniques produced a confession from CIA director Porter Goss Monday, with the aid of waterboarding, food and light deprivation, and the application of wire hangers hooked to a car battery to the testicles.
"I did it. We did it. We all did it. The president knew. The president did it. Please, God, please stop," said a voice identified as Goss' on recordings produced by CIA auditors. "Stop, please stop. I'm sorry. I won't do it again. The president won't do it again. Please let me die."
Critics of the methods used to obtain the information continue to claim that torture is an ineffective means of obtaining intelligence, pointing out that Goss did not sound sorry.
And now a word from our sponsor . . .
A one horse open sleigh (2MB)
Did I mention there's an election on?
There is a cure for electoral dysfunction.

A funny video from Fair Vote Canada
starring none other than
DON FERGUSON from The Royal Canadian Air Farce!



Click here to view:
Windows Media
Real Player
QuickTime