The Neon News
January 7, 2005
---
Hey Fanz!
Happy New Year!
Or at least, as happy as possible under the circumstances.
Patio Dave & the Lanterns will be playing a fundraiser for tsunami relief
this Sunday, January 9, 2-5 pm.
at the Community Centre
in Port Dover.
As usual, I have no details, but I know we all want to do what we can.
Life Goes On Department
Gordon's Acoustic Living Room are back at it at
The Free Times Café (Canada's longest running folk club),
320 College Street, two blocks west of Spadina, on
Sunday, January 16, 8-11 pm.
and
We'll be back at the Free Times as
The Burns Unit on
Tuesday, January 25,
Robert Burns Day.
I'll get the whole 2005 schedule up on the website soon. Honest.
Meanwhile, check out our video on the web!
Coming up:
Patio Dave & the Lanterns will be playing the
Chili Blowout at
The Lighthouse Festival Theatre again this year on Friday, February 18. Not to be missed!
Un-Classified ads:
Speakers still sound good
After 25 years of service I have finally replaced my Bose bookshelf speakers with a new pair of speakers. In the interests of recycling I am prepared to sell the old Boses. They still sound good, although all of the speaker coverings have faded away in the mists of time. As a second set of speakers they should work fine. $50 or best offer.

Sitar for sale
Full Scale Gourd Sitar w/ Hard shell case and table gourd adapter
Excellent condition
more pictures available on request...
Nothing wrong with it...
Just no time to sit down and learn how to play the thing!!!!
Everyone can sing wonderfully
First I've got two beginner singer classes starting in the next few weeks that have room for 2 more singers each.
The first is on -Friday night from 7 to 8/30pm, running 8 weeks, starting 2nd week of January.
The second is on -Sunday afternoons from 1 till 2/30pm, running 8 weeks, starting as above.
These are fun workshops designed for those who want to improve their singing experience.
In the singing classes,we'll do lots of singing, work on building confidence, finding problem areas; why things don't work, gaining tools to solve things, ear training and technique, and relax, sing and have fun with others who love to sing. I gear each class to the participants, so it can range from beginners to fairly advanced. There's always something that can be solved! I believe everyone can sing wonderfully; this course is designed to gather the tools and courage.
Organ needs a home
The multi-talented Gary Bluestone has a Hammond BC (an older B3) which he's looking to
find a home for... until he has the space himself.
Worst case, he's got a place for in Newmarket, but would like it closer to home.
My guess, it's footprint is about 2.5' by 5' , and would make a dandy TV stand or a very
precarious aquarium base.
[These ads are real, honest - all in Toronto. - Wayne]
Incredible Truth of Prophecy Revealed!
"As democracy is perfected, the office of President represents, more and more closely, the inner soul of the people. On some great and glorious day the plain folks of the land will reach their heart's desire at last and the White House will be adorned by a downright moron."
-- H.L. Mencken
Truth Stranger Than Fiction
Fiction Funnier Than Truth
Adam Felber is, alas, not a real candidate, but a comedian from LA who ran a mock presidential campaign during the recent US election. His concession speech, which has turned into an internet phenomenon, can be found on his very funny blog site, Fanatical Apathy:
Shocking Exposé - Man's Best Friend Abused For The Sake of Cheap Laughs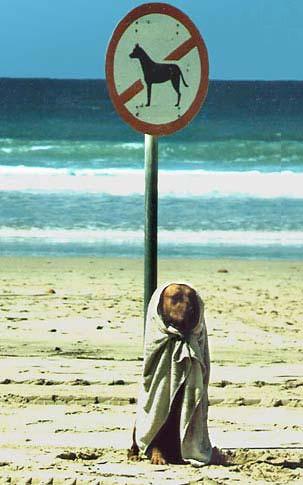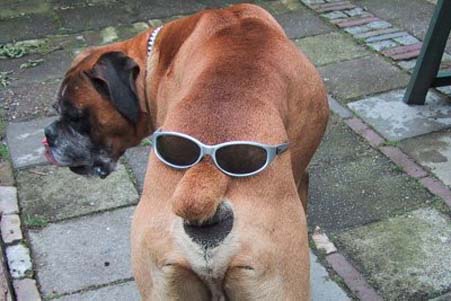 Wayne Neon
416-407-7009
No animals were harmed in the making of this newsletter.