The Neon News
February 12, 2004
---
Hey Fanz!
Heaven or Hell?
or, the Good, the Bad and the Stinky.
Still don't know what to do with your sweetie for Valentine's Day? How about a romantic weekend in the Port? You can feast on love songs at the Lighthouse Festival Theatre on Saturday, February 14 with Patio Dave & the Lanterns, the enchanting Ladybird Sideshow and the amazing Richard Dupp. And scenic Port Dover is littered with cozy hotels and B&Bs where you and your honey can snuggle away. Tickets are $15 at the door or call the Box Office at 519-583-2221.

If you would rather flirt with the dark side, you can still catch Patio Dave & the Lanterns at the same location at the Chili Blowout on Friday, February 27. This is the Lighthouse Festival Theatre's annual fundraising event. It's a contest, with thirty or more different chilis to sample and vote on. There'll be dancing after to settle the stomach, and you'll have the whole weekend to recover!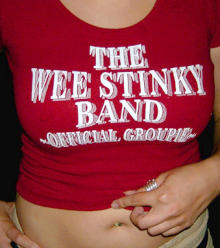 If, on the other hand, you've completely abandoned the concept of western morality, come to Rooster's Pub in Barrie on Saturday, March 20 for the semi-annual bacchanality of the Wee Stinky Band. To see just how degenerate life has become in the Pot Capital of Canada, check out The Wee Stinky Band Fan Club.
But wait! There's hope for us all! The Burns Unit was so successful at the Free Times Cafe on Burns Night that they've been given a regular gig!

We'll be playing the Free Times Cafe on Sunday evening, March 7, and thereafter on the third Sunday of each month.
Not sure what we'll call it yet. Candidates under consideration are the Celtic Eclectic Dyspeptic Dialectic, and Gord's Living Room.
You can see new pics of Cooler By The Lake at The McMichael Gallery on my website, but I'm afraid the site will still languish in the Inadequate category until I get up some pics of the illuminated glass work I've done with Pattie Walker. Stay tuned!
Wayne Neon
416-407-7009
www.wayneon.ca