The Neon News
January 17, 2004
---
Hey Fanz!
Cooler By The Lake is a nine-piece swing ensemble based on Toronto Island. We're thinking of changing the name to Actually, It's One Degree Warmer On The Island, But This Wind Chill Factor Is A Killer.
We'll be playing our annual gig at The Rectory Cafe on Ward's Island on Friday, January 23, 2004. You can call The Rectory, 416-203-2152, and try for reservations, but it's probably already sold out.
Fortunately, we have a record-setting second gig this year! We will be part of the Sunday Concert Series at The McMichael Gallery in Kleinberg. You can catch us on Sunday, February 1 at 1:30 p.m. (listed as Coby Stoller, Jazz Ensemble). $15 gets you us and the whole gallery. The Group of Nine and The Group of Seven!
The McMichael Canadian Art Collection
In the meantime, I'll be playing with The Burns Unit, which is part of the nefarious VampIrish/Wormgear axis, on Burns Night, Sunday, January 25 at The Free Times Cafe, 320 College Street in Trawna. There will be poetry at 9:00 p.m., and we're on at 9:30. Yes, there will be Haggis!
Also coming up soon, Patio Dave & the Lanterns present a Valentine's Day concert at The Lighthouse Festival Theatre in Port Dover. (That would be Saturday, February 14, 2004.) Special guests Ladybird Sideshow will knock your socks off! $15 bucks each for you and your friend, and a reservation at one of Port Dover's charming Bed & Breakfasts could be the best investment you make this year. The Lighthouse Theatre is The Official Home of Romance. Ask Helen, she knows!
The Lighthouse Festival Theatre
And on March 20, in fragrant Barrie, the Pot Capital of Canada, The Wee Stinky Band strikes again! The usual place, the usual time, the usual crowd, the usual fun! Stay tuned!
Wayne Neon
416-407-7009
www.wayneon.ca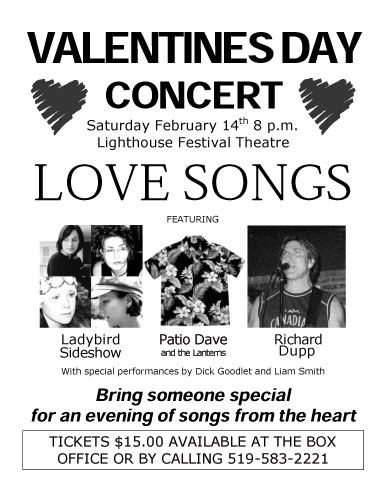 Anna, Thy Charms - Robert Burns
1788
Anna, thy charms my bosom fire,
And waste my soul with care;
But ah! how bootless to admire,
When fated to despair!
Yet in thy presence, lovely Fair,
To hope may be forgiven;
For sure 'twere impious to despair
So much in sight of heaven.
The Official Robert Burns Site