Chiapas and Other Distractions
The Amnesty Café - November 18, 2003
---
On November 18, 2003, at the Blue Moon Pub, The Amnesty Café presented "Chiapas and Other Distractions", a monologue written and performed by Lalo Espejo.

Lalo Espejo is a Vancouver writer and performer whose political satire has appeared on CBC radio's 'The Early Edition' and 'Definitely Not The Opera'. Before coming to Vancouver, he was a journalist in Belize for two years, reporting on development issues. His travels through the Middle East, a year after the Gulf War, led to his first monologue, Mapless in the Middle East.

Chrysanthi Michaelides is your host for the Amnesty Café.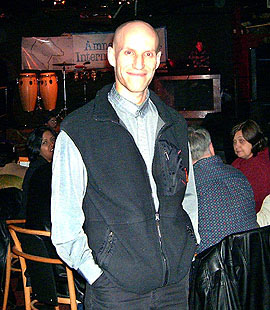 "Chiapas and Other Distractions" uses the Zapatista uprising in Chiapas, Mexico, led by Subcommandante Marcos, as a point of comparison for our media-saturated lives. Many political observers called it the first postmodern revolution for its deft handling of the media - a theme that Lalo picks up on as he examines the Marcos 'brand'.
Although the theme is a serious one, the monologue is rich with humour that emerges in the absurdity of the contrasts between the two cultures.
The monologue features a lively jazz score composed and performed by Patrick Pennefather.
The Latin jazz adds a kick to a monologue that incorporates Mayan parables and myths alongside the tension of travelling through a highly militarized zone during the time of the historic Mexican elections of July 2000.
| | |
| --- | --- |
| | After the play, we danced to the music of the band 'Cassava', supplemented by players from the group 'Cubanismo'. |